I did this draft yesterday morning before the start of the season. I didn't recap this yesterday because I wanted to spend some time watching actual baseball!
At the end of the draft, I felt this was the weakest of the three drafts, but Fantasy Pro's gave it the 2nd best ranking of my three drafts. A 98 out of 100, A+ grade and projected finish of 1st. Let's hope they are correct!
I felt this was the hardest draft. I feel like I got less depth than other drafts, but it might be because this draft I was most aggressive on closers, getting two in the first six rounds. I know it is only one day into the season, but I thought closers like Sewald in SEA and Lopez in MIN would at least start the season in the closer roles and Day 1 both Munoz and Duran got saves. If both my closers get 30+ saves, It should be worth it. If one or both fail to do that, I probably overdrafted closers. We will see come October.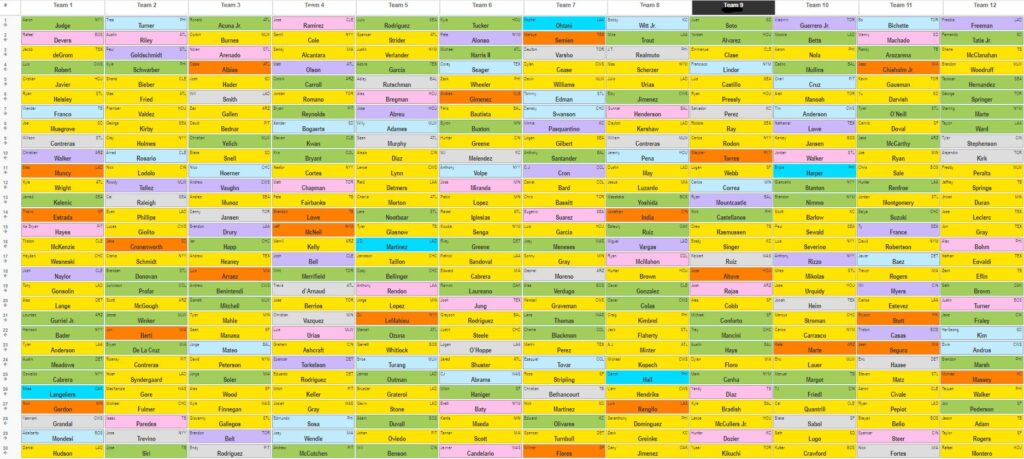 Round 1 – Juan Soto OF. Third different player in round 1 I took. I am not worried about the injury in spring training. He hits in front of Machado so runs will be plentiful. I think his average will tick up this year and he will hit 30+ HR's. Off to a solid start.
Round 2 – Yordan Alvarez OF. I actually have him ranked higher than Soto, but I felt I had a better chance of landing Alvarez in round 2 than Soto and it worked. I now have two absolute monsters at a thin OF position. Love it.
Round 3 – Emmanuel Clase RP. The two starting pitchers I was looking at went in the three picks prior to this one, so I grabbed probably the undisputed top preseason closer with Diaz injured. Guardians should win 90+ games so saves chances should be plentiful. The next closer didn't go for another two rounds, so I probably overdrafted here.
Round 4 – Francisco Lindor SS. I've been waiting on SS because the depth is there this year, but I have Lindor as a late round 2/early round 3 pick so the value was too much to pass in round 4. Probably won't drive in 100 runs again but he will contribute in all five categories.
Round 5 – Luis Castillo SP. Fifteen SP had already been taken so I couldn't wait any longer. I still got myself a staff anchor who will contribute in all 4 starting pitching categories on a team many are looking at making it to the WS.
Round 6 – Ryan Pressly RP. Well this is different. After Draft 1 me scrambling for saves, Draft 2 scrambling for a second closer, I now have two locked in closers in the first 6 rounds. I didn't love any of the SP left at this spot and only 3 went before my next pick, so I don't feel like I sacrificed SP to make this pick. I already had two studs in the OF, no IF were a good value here so I locked down the closer position.
Round 7 – Salvy Perez C. Solid production at the C position. Last of what I think were the top Catchers. I said it before but I still think he is in for a big season.
Round 8 – Robbie Ray SP. Another quality SP on the Mariners. Should also contribute in all 4 SP categories After waiting a bit on SP, not a bad start to a staff at all.
Round 9 – Carlos Rodon SP. More upside here than any other SP left. Reports are he is progressing well from his spring injury and has already thrown a couple bullpens. If he ends up missing only 3-4 starts, my staff is coming together very nicely.
Round 10 – Gleybar Torres 2B. Repeat pick from a previous draft but the value here was too much to pass up on. Rewarded me with an Opening Day 2 run HR.
Round 11 – Logan Webb SP. Another repeat pick and a solid SP4. The four runs in six innings Opening Day wasn't great but the 12 K's were.
Round 12 – Carlos Correa SS. Another repeat pick, but locked down a pretty stellar MI with Lindor, Torres and Correa. Had to make up for not getting a CI yet.
Round 13 – Ryan Mountcastle 1B. Time to address the CI. Young ascending slugger hitting cleanup who should get plenty of RBI chances. Won't be surprised who puts up similar numbers to Pasquantino who went two rounds earlier.
Round 14 – Nick Castellanos OF. Bounce back candidate. Should hit in the middle of a powerful Phillies offense. Counting number opportunities a plenty. Needed to add some depth to the great start in OF.
Round 15 – Drew Rasmussen SP. Really solid SP5. Not an innings eater, but he will contribute in the SP categories and not hurt me anywhere.
Round 16 – Brady Singer SP. I think he will be a sneaky ace this year. Second half last year he was 6-2 with a 2.53 ERA and 8.9 K/9. He picked right up where he left off this spring outside the one rough outing in the WBC.
Round 17 – Keibert Ruiz C. Was sitting on Ryan McMahon for 3B but got sniped. Picked up Ruiz to be a solid C2 and not torpedo my BA.
Round 18 – Jose Altuve 2B. Three for three on my drafts and this time a couple rounds later than previous. Will fit in at UT since my MI is already loaded. Astros placed him on IL10 instead of IL60, so there is hope he will be back in under two months.
Round 19 – Josh Rojas 3B. Ok, scrambling now for a 3B and need some SB. Rojas fits both bills but is currently behind Evan Longoria. It should only be a matter of time before AZ figures out that Longoria is no longer a regular player. Longoria hasnt played 90+ games since 2019. With regular playing time Rojas can steal 30 bags.
Round 20 – Alex Cobb SP. Solid SP7. Not an innings eater and wins could be a struggle on a weak Giants team but the will contribute to ERA/WHIP and K's.
Round 21 – Michael Conforto OF. Hitting at top of Giants lineup so he will score some runs, chip in mid teens HR and not terrible BA
Round 22 – Trey Mancini 1B/OF. See above but hitting in middle of Cubs lineup so more rbis than runs.
Round 23 – Austin Hays OF. Filling out the OF depth with solid but unspectacular guys. Depth wins.
Round 24 – Dylan Floro RP. Closer in Miami. Hopefully can mix him in some weeks and pick up a few saves to add to the two every week closers.
Round 25 – Mark Canha OF. See rounds 21-23. They are all basically the same guy. If one falters I can plug another in. One of these guys will also man the UT spot till Altuve returns.
Round 26 – Yandy Diaz 3B. Wont put up big power numbers but average will help and is hitting leadoff in Tampa so should score some runs.
Round 27 – Kyle Bradish SP. Wont be an every week automatic starter but could provide value if he breaks out. At this point you are just throwing darts.
Round 28 – Lance McCullers Jr. Hoping he only misses a month. He is reportedly pain free now so he is trending in the right direction. Definitely a guy who can contribute when he is healthy.
Round 29 – Hunter Dozier 1B/3B/OF. Another dart throw. Nice flexibility between CI/OF should he break out.
Round 30 – Yusei Kikuchi SP. Big time dart throw here but had a monster spring. If he can harness his stuff, he can be a fantasy contributor on a powerful Blue Jays team.
Well that wraps up my drafts for this season. Now time to start scouring the waiver wire for those hidden gems!
About Author