Yesterday I did my first draft of the season for baseball. I like to wait as long as possible to do my drafts because I like to have as much information available as possible when I draft. Sure I wont steal any sleepers or rookies like Jordan Walker or Anthony Volpe who shine in the spring and claim an unexpected starting job, but I also wont spend a premium pick on a player who gets hurt before every playing a real game. Yeah guys can get hurt early in the season, but for whatever reason I am ok with that as opposed to drafting early and losing a guy during Spring Training.
My biggest observation from the draft was that closers went early and often. Far earlier than I was comfortable drafting closers. I ended up with for lower tier closers and will try and mix and match and grind my way to maybe middle of the pack in saves. Really at this point anything more than last and I think I will be happy. I've got guys who are either projected to lose their job, play on bad teams or both. I am going to try to play matchups to get the best possible chance at saves. For example in this first four day period, I have Dylan Floro and the Marlins have four games at home versus the Mets. Home games are good, but playing the Mets is bad. So I am sitting Floro for this first period, same with Scott Barlow with three games versus the Twins. Having said that, I am playing Jorge Lopez while he has the job and versus the Royals and Craig Kimbrell who looked sharp this spring. I also know I will make the wrong choices this year and it will drive me mad. I will either have to deal with this or adjust for my next two drafts this week.
So here is the draft board from the draft.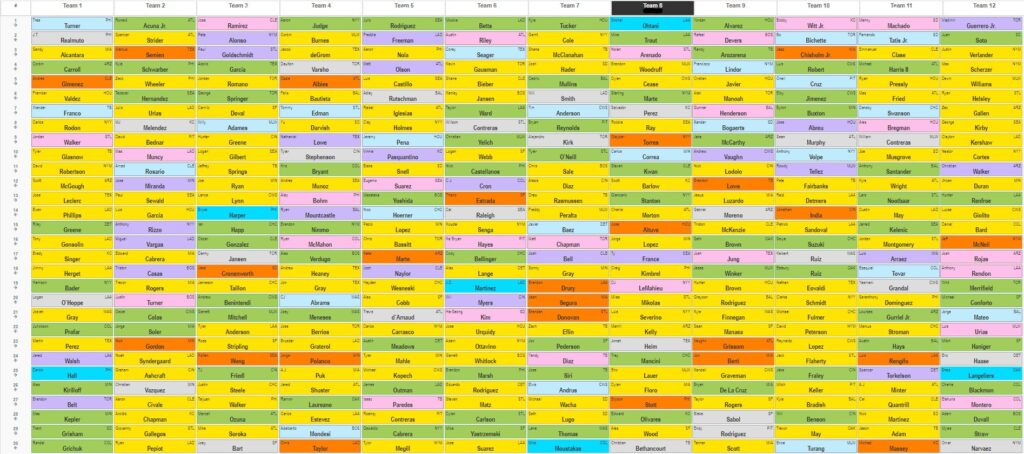 So round 1 I went with Shohei Ohtani SP/UT. He is definitively the best player in baseball and I think he is getting better. Scary. Plus I love the flexibility he gives me. So in this league you chose at the start of the week if he is a pitcher or a hitter. So I am going to start the season using Ohtani as a pitcher in the weeks he gets two starts and as a hitter the rest of the weeks. As the season goes on, I will be able to see where I am ranking in each category. If I am excelling in hitting and lagging in pitching, I can make him a full time pitcher. If I am crushing in pitching and need help on offense, I can make him a full time hitter. I can't go on the waiver wire during the season and find a guy who can make that kind of impact. The only downside is that I live in the Eastern Time Zone and 10pm starts are too late for me to watch lol
Round 2, Mike Trout OF. His days of double digit steals are gone and he hasnt played over 140 games since 2016 and only over 120 games twice in the last five years, but at #17 he gives me the upside of a top 3 player. I passed on Corbin Burnes and Freddie Freeman who I had ranked higher. Ohtani in round 1 allows me to wait another round or two to draft a pitcher and will boost that guys number to potentially a top 3 starting pitcher stats. The depth at 1B and the lack of depth at OF also made the choice of Trout a better fit for me.
Round 3, Nolan Arenado 3B. Arenado was the last of the really good, solid 3B so I grabbed him. Hoped that Francisco Lindor or Max Scherzer would be there when I get back.
Round 4, Brandon Woodruff SP. Neither player made it back with Lindor getting sniped one pick before me. Time to get a staff anchor. A strikeout machine who is avg 10.5 K/9 in his career. He will anchor my ERA and WHIP and plays for a team that should contend for the NL Central Title, so double digit wins should be a certainty.
Round 5, Dylan Cease SP. Another staff anchor and strikeout monster. Am I expecting another 2.20 ERA season? Of course not. Would I be shocked with another sub 3 ERA season? Not at all. Should give me close to 200 K's and double digit wins while helping with ERA and WHIP.
Round 6, Starling Marte OF. The pickings in the OF are getting slim already. Marte will be a guy who hits at the top of a strong Mets lineup and will have Alonso driving him in all summer long. Hits for good average and could be a 20/30 guy. When healthy he can be a top 10 OF.
Round 7, Salvy Perez C. Another spot where the drop off after here is pretty steep. I have him ranked as my #3 C and got him as the 5th C drafted. He looked locked in during the WBC and I think he will have a huge year on an offense that will be better than people think. When healthy he plays and plays a lot. His bat is almost always in the lineup even when he isn't behind the plate. Two years ago he played 161 games and led the majors in HR and RBI. Not that he will do that again, but 30/100 isn't out of the question.
Round 8, Robbie Ray SP. Staff anchor #3. I now have 3 of my top 22 pitchers. I only had 4 closers ranked higher at this point and 9 have been drafted. I stuck to my rankings and didn't chase closers. Another K Monster. He should contribute in wins on a Seattle team that should win approach 90 wins again. He allowed lower exit velocity and Hard H% last there than his Cy Young season, so here is hoping his ERA gets back to the low 3's.
Round 9, Gleyber Torres 2B. Pick 104, have him ranked 105. Next ranked 2B was Max Muncy at 128 and his BA scares me. Torres should hit somewhere near the middle of a loaded Yankees lineup. I'm looking for Mid to upper 20s HRs and 75ish runs and rbis with a chance for double digit SB.
Round 10, Carlos Correa SS. The 14th SS picked. After having been previously sniped by Team 9 for both Lindor and Bogaerts, Correa is not a bad consolation prize at all. Solid avg with low to mid 20's HR, high 70s to low 80's runs and mid 80s rbis.
Round 11, Steven Kwan OF. Was looking at Kris Bryant here but he went four picks prior. Choice here was Kwan or Santander and I went with Kwan for average. Wasn't quite ready for a BA torpedo for power quite yet. Kwan hits for a good average and will hit at the top of the Guardians order. Ramirez will drive him in plenty so 90's runs is very possible and 20+ SBs without hurting the BA.
Round 12, Scott Barlow RP. 15 closers had been picked by this point. I reached on this one. I missed that Alexis Diaz was still available, Bard's performance in the WBC scared me and Barlow has pretty dominant the last two seasons, striking out just over 10 K/9. He pitches a fair amount of innings for a reliever pitching 74.1 the last two years. He is the better pitcher than Chapman, so I think he will keep the closer role. Only question is if he gets traded to a contender and slots into a setup role and how many save chances will he have with the Royals. Probably my most questionable pick of the draft.
Round 13, Giancarlo Stanton OF. Would anyone be surprised if Stanton put up better numbers than Santander this year? Probably not. If Stanton plays 100 games, he will hit 30 HR's. If he duplicates 2021's numbers of .273/35/97 this is a steal in round 13. I am willing to risk last years .211 was an outlier on his BA but as OF4, I am willing to risk a 30+ HR BA torpedo at this stage. OF is getting very bare.
Round 14, Charlie Morton SP. Strikeout and more strikeouts. Four last five seasons Morton has started 30+ games and struck out 200+. Plays for a winning team so hoping for low to mid teens in wins and hopefully not a huge torpedo to ERA.
Round 15, Jose Altuve 2B. 10 picks after Bryce Harper went and hopefully will be returning about the same time. He will miss two months but this guy can fall out of bed hitting, so I think he will be game ready quickly. A June 1st return still gives me 2/3rds of a season of the best 2b in fantasy baseball. Come June 1 hopefully, I will have Torres/Correa/Altuve as my middle infielders. Nice.
Round 16, Jorge Lopez RP. At this point with closers it is all dart throws. Twins over/under on wins is 84.5, there will be save chances. Throwing a dart Lopez gets more chances than Duran.
Round 17, Ty France 1B. Nothing flashy here but solid. Won't torpedo my BA, could get into low 20's in HR's and I think his counting numbers will bump up a little on an improved Mariners team.
Round 18, Craig Kimbrell RP. Another dart throw. Phillies should win a lot of games and Kimbrell has the 9th inning experience. He isn't the dominant closer of the past, but that is why he is still here in round 17. I think he will produce more than his ADP suggests.
Round 19, DJ LeMahieu 1B/3B. Professional hitter. Should provide steady numbers across the board minus SB. Named opening day leadoff hitter for the Yankees so runs should be plentiful. I am going to be watching a lot of Yankee games this summer with Torres, Stanton and LeMahieu.
Round 20, Miles Mikolas SP. SP5 for my team. Cardinals will contend for NL Central crown, so wins should be available. If he duplicates last year I will have 200 IP of solid ERA to bolster that stat. Doesn't strike out a lot of guys, but my top 4 guys should handle that.
Round 21, Luis Severino SP. Health gamble, but when healthy and pitching he provides borderline elite numbers. Downsize is a total of 108 IP total the last two seasons. Plug him in when healthy and he is a dynamite SP6
Round 22, Merrill Kelly SP. I think Arizona may surprise some people this year and if they do, Kelly should be leading the charge. Another inning eater with solid ERA
Round 23, Jonah Heim C. Need 2 catchers. Ugh. He should play and provide a little pop, only question is how much he will tank the team BA.
Round 24, Trey Mancini OF. OF5, will get regular AB's for the Cubs without hopefully killing the BA and provide ideally low 20's HR and some depth.
Round 25, Eric Lauer SP. A flier. More potential strike outs. Bench depth.
Round 26, Dylan Floro RP. Appears to be leading the race for Marlins closer. A lottery ticket.
Round 27, Bryson Stott 2B. MI filler until Jose Altuve returns.
Round 28, Edward Olivares OF. My super sleeper pick. Should finally get regular ABs. Could be a sneaky 20/20 candidate.
Round 29, Alex Wood SP. More SP depth and a solid bench piece. Can fill in when Severino is out.
Round 30, Christian Bethancourt C. Pure bench depth insurance incase a C goes down without sinking BA.
2 more drafts to go this week, so look for more draft reviews coming this week!
About Author